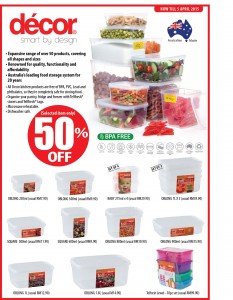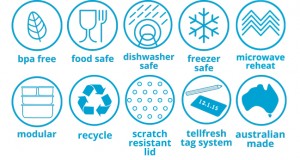 50% OFF – Decor Smart By Design Promotion Available at House Of Presentation – Kitchen Shop – BBQ King – Valid Till 5th April 2015
A range of useful sizes for the pantry, fridge or freezer. All are clearly marked with graduated measurements and take Tellfresh® tags. They nest inside each other to save space in your cupboards and stack on top of each other for convenient storage. When freezing liquid fill up to the top graduation. After freezing store let it rest for a few minutes before removing lid. Loosen lid whilst reheating in microwave.
Click HERE to find nearest outlet to you and also available on our online store houseofpresentation.com . Click HERE.